Awards
Juslin Maunula: The feeling of space
Architecture
Design
Fashion
Two different forms of expression: architecture and fashion design. Two different points of view; one aims at permanence, to sustain the test of time, while the other is in constant change. One involves hard materials, the other soft textures, close to the human skin. One creates space for human beings while the other brings human forms into a space.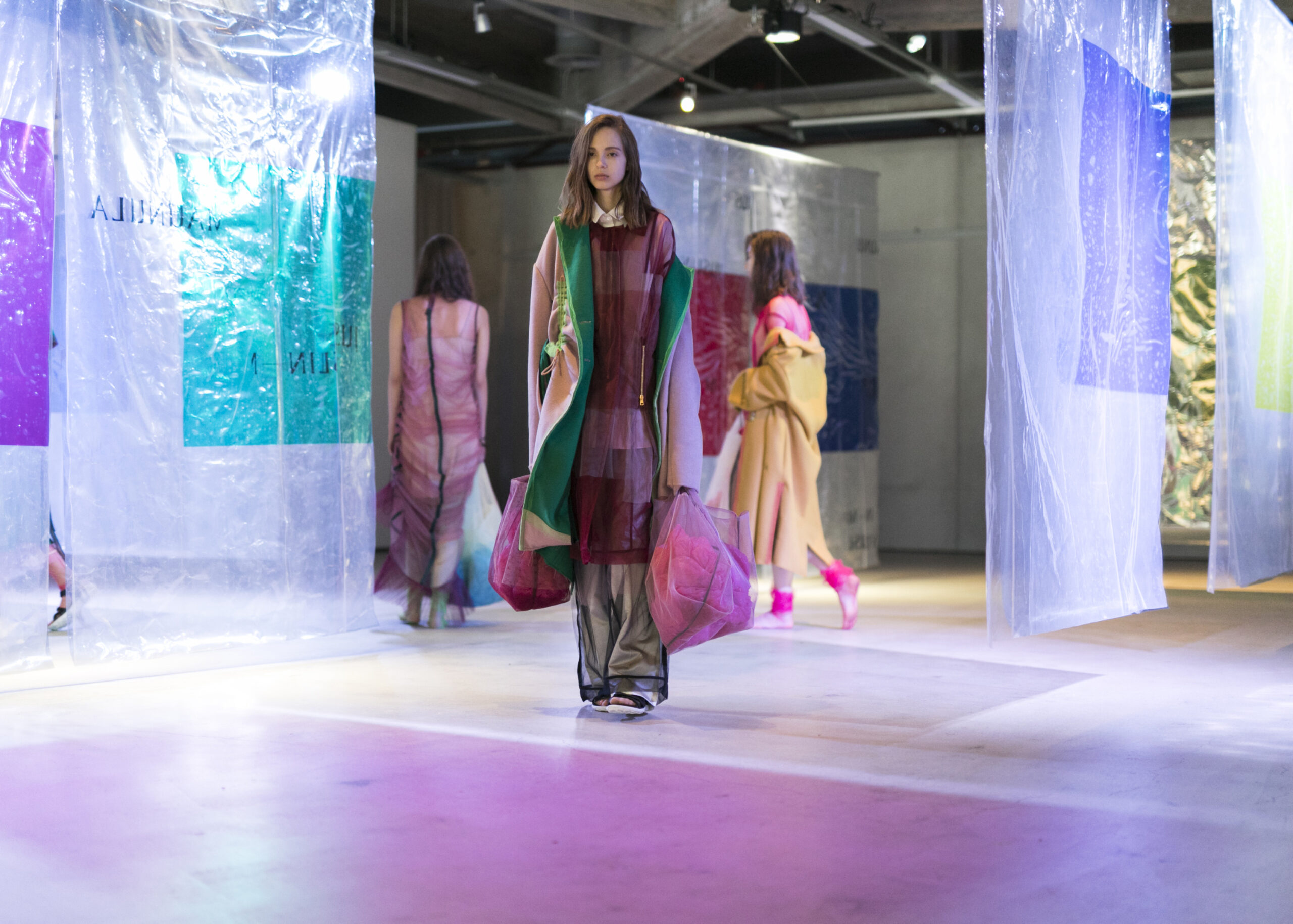 The work of design duo Juslin Maunula, the receiver of Young Designer of the Year 2022 prize, combines architecture and fashion design. First there is an idea which the duo then begins to develop with various means and from various starting points. There always is a common goal, though, where the space and the garment are the opposing ends of a continuum.
Juslin Maunula was born in 2015. Ten years earlier, Laura Juslin and Lilli Maunula studied fashion design at the same time in Aalto University but then went separate ways. Laura Juslin graduated to become a fashion designer. For her thesis, she studied the use of architectural methods in fashion design. Lilli Maunula's dream was to work in clothing design but she became an architect.
A common interest to combine the fields of architecture and fashion inspired Juslin and Maunula to found a design studio together. They both wanted to work with fashion, but from a new angle: a more comprehensive, experiential one, to be something more than just a product. "We wanted to seamlessly connect fashion and architecture," Laura Juslin says. "A connection that would be visible in everything we do. Not only when really creating a space with a product, but also to be the leading idea for everything we do. More like an overall experience."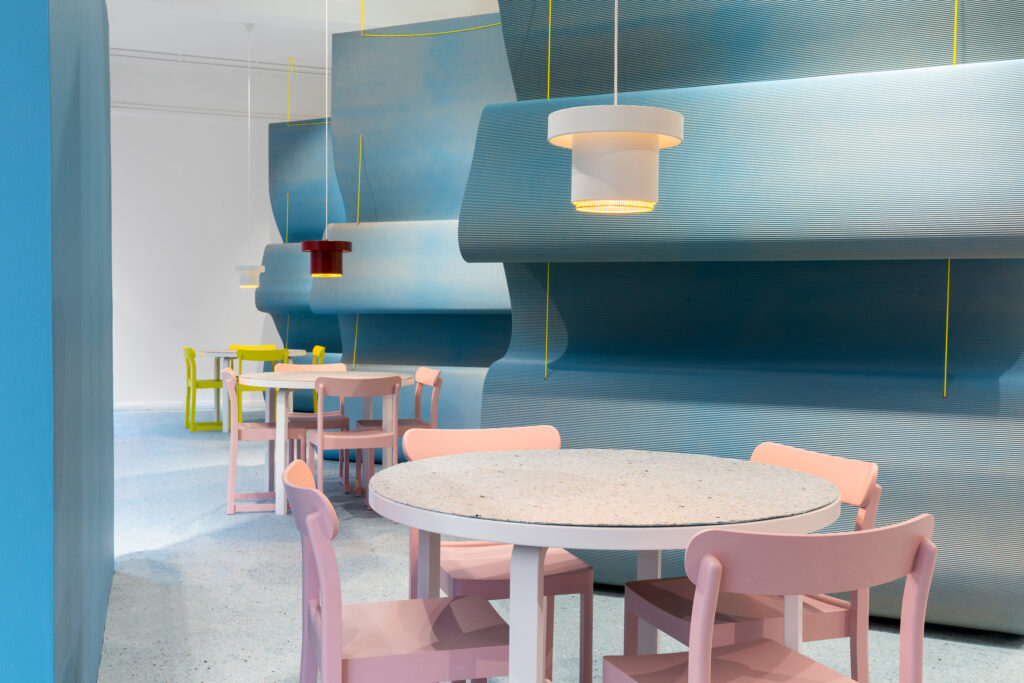 Architecture may seem permanent compared to fashion, but architecture, too, is experienced in a fleeting moment. Then again, fashion means more than passing phenomena to Juslin Maunula. "The way of thinking within architecture is very functional, and form always follows function," Juslin says. "Fashion is much more light-spirited and does not require a reason for being. However, fashion is not just clothing but more the sum of culture, arts, understanding of history and sensing the era." "We decide how to realize a product through dialogue," Lilli Maunula says. "In this process, our two ways of thinking come together."
This approach was once exceptional. "When we founded our company, we wondered whether there was room for our way of working," Juslin says. "Perhaps we even were ahead of our time." The fashion industry has been in revolution for a long time, and now large operators, too, are looking for new ways of working. The boundaries are breaking, Lilli Maunula says. Fashion is presented in spatial installations, or fashion collections include interior accessories. Both a space and a garment can represent one identity.
Juslin Maunula's projects start from a joint idea and concept that is then developed together and by taking turns. Laura Juslin and Lilli Maunula themselves are even a bit surprised about their smooth collaboration. "I trust whatever Lilli says one hundred per cent. I think we're able to use our respective skills in each of our products and concepts," Laura Juslin says. Over the years, the work process has become seamless, as have their tastes and visions – and there have never been arguments regarding work, they say, amused.
The duo can find inspiration anywhere. "Nearly anything can be inspirational," Laura Juslin remarks. "Inspiration can come from art or a visit to the hardware store, if there is an interesting material, for example. Visual stimulus is not always necessary; an idea can arise from a thought or a problem. Experience in fashion provides the will to create strong concepts."
However, material is often the basis for design, Lilli Maunula notes. The duo is currently working on interior design products and textiles made of surplus fabrics, testing modularity. Another important design element for them is colour, interaction between colours. "What happens when we place colours side by side or on top of each other," Laura Juslin explains. "We're looking for illusions; illusions are of interest to us right now."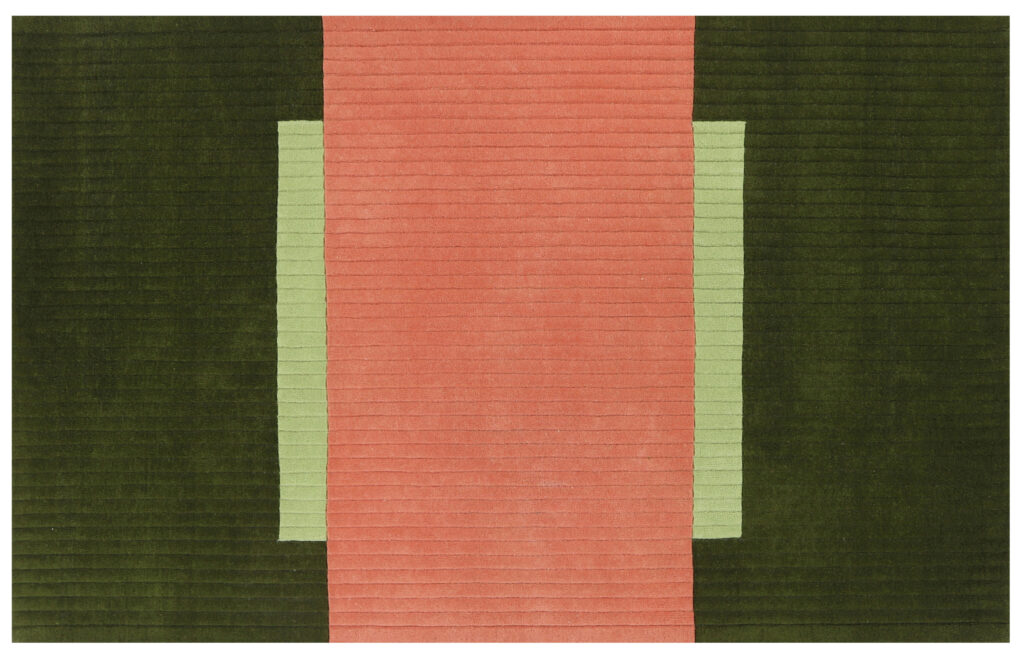 In a Juslin Maunula project, for example in a retail store or trade fair environment, a space engages in dialogue with a garment or other object. For the Design Museum in Helsinki, the duo drafted an exhibition display making use of a specific surplus fabric: tulle, of which they made partition walls by using a rug-weaving technique. Working the material in a new way produced watercolour-like gradients and translucent effects for the exhibition space.
Juslin Maunula's unusual approach is of great interest to clients. They have designed clothing items for Marimekko, a jewellery collection for Kalevala, rugs for Finarte and a store installation for Artek. Obviously, it is a challenge to balance artistic ambition and commercial feasibility, the designers say. But one must not underestimate the consumer, Laura Juslin notes. Consumers shall not be provided with easy solutions but must be challenged. In this Juslin Maunula have succeeded: their products have been received well in Finland and internationally.
At the moment Juslin Maunula focus on circular economy. As designers, they identify with being problem-solvers, and there is great demand for problem-solving right now. They want to find new uses for surplus materials. "We're skilful," says Juslin, excitedly. "We'll turn any material into something beautiful. If your company has surplus materials, call us. We'll find a new use for it, turn it into something magical and wonderful."
Laura Juslin summarizes the duo incisively: "Perhaps our way of working is simply to combine colours and materials into works in which the space and the product engage in dialogue. It is about combining materials, structures and colours into a three-dimensional, or sometimes two-dimensional form. In a way that always includes the combination of fashion and architecture. Those are indeed the key elements of our work: colour and materials."
The article has been published in the DFF Awards publication in 2022.
Header image: Juslin Maunula, collection 2015, photo: Ville Varumo
Photo 1: Juslin Maunula, own collection and installation 2017, photo: Lina Jelanski
Photo 2: Juslin Maunula, Artek, installation, photo: Paavo Lehtonen
Photo 3: Juslin Maunula, Finarte, woollen carpet, photo: Carl Bergman